Our Favorite Catering Food Trends of 2023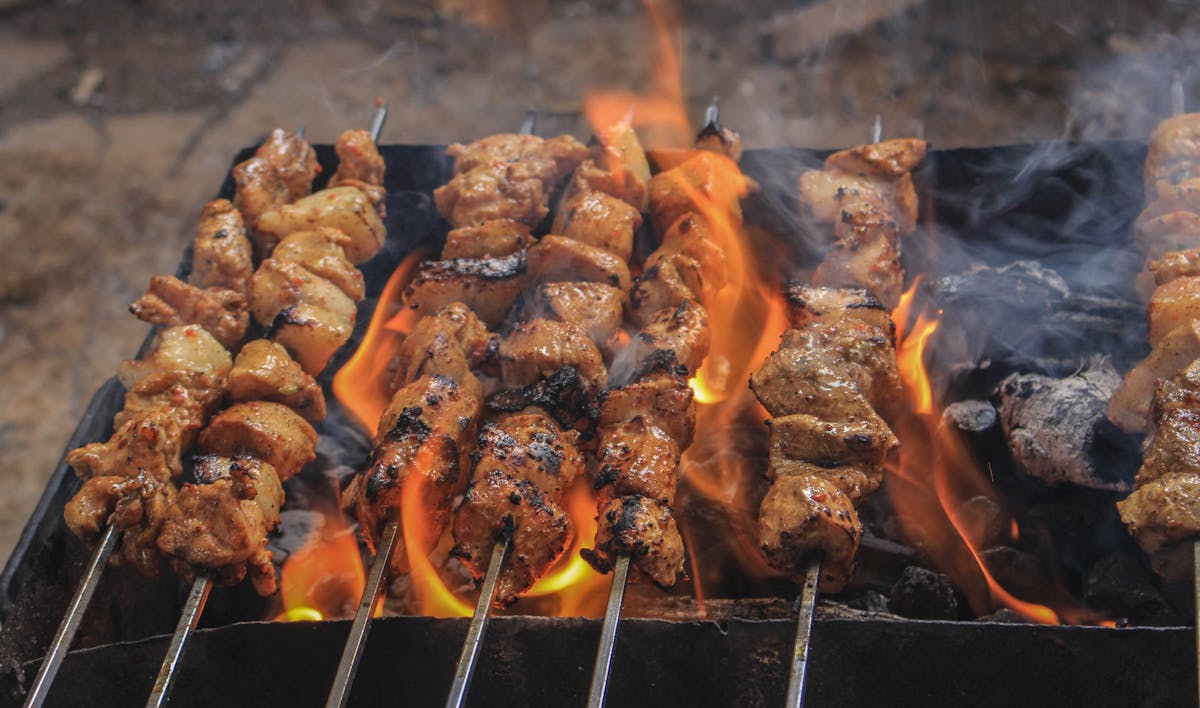 At Rogue Kitchens, we offer unique full service catering near me and you to serve your needs. Our team serves corporate, non-profit, and social events and parties in NYC, Long Island, and the Hamptons. We provide custom menus and services for birthdays, fashion shows, fundraisers, galas, launches, weddings, and more.
Here is a list of our 2023 favorite catering food trends that may inspire you throughout the year:
1. Cuban Roast Pork
You can expect people to seek the best pork catering options in 2023. Our roast pork from Rinconcito Sabor Cubano finds its magic from 80s Miami flair. Rinconcito uses this dish to bring people and families together with a taste of homestyle Cuban cuisine.
We serve roast pork inside a box Cubans call the "China box." The box has plywood and aluminum lining material where the cooks insert the pork and slow-cook it with charcoal. We add seasoning the night before the event and deliver the box to your door.
Rinconcito's roast pork best goes with these four foods to give your guests an authentic taste:
Black beans
Bread
Plantains
Rice
Sabor Cubano roast pork meal can help make events festive while having your guests crave more.
2. Street BBQ
BBQ lovers in 2023 are looking for more natural flavors for their events. Our Rouge Kitchen's BBQ provides fresh ingredients that give new meaning to street BBQ. They have light sauces with the right amount of dressing on the sides.
Rouge Kitchen's focus on flavor-based ingredients changes the way people define BBQ. Our exclusive BBQ can help provide your guests with a unique experience. Their taste buds may witness a pleasant adventure that gets them thinking of a new world of street BBQ flavors.
Our full service catering near me can provide a catering BBQ experience you won't find elsewhere.
3. Churros
Churros can continue being a catering dessert favorite for many people looking to host events. The Spanish-based fritter is piped into hot oil before bakers roll them in cinnamon sugar. They come out crispy and sweet outside and fluffy inside. Most churros have thick stick shapes with ridges, while some may curve into shapes.
You can find them on the streets of many Spanish-speaking countries. They're becoming a hot topic in the U.S. and Canada. We're proud to offer this dessert as part of our diverse catering after-meal options. Our churros can give your invitees a taste that redefines the meaning of dessert.
4. Rockstar Chicken Caesar Cold Chef Tapas
We have many fine selections of cold chef tapas you can choose for your event. Our Rockstar Chicken Caesar is a century-old tradition that remains strong today. Below are the main ingredients that make up this dish:
Chicken croquettes
Kranch caper dressing
Pepper candied bacon
Romaine hearts
Shaved manchego
Event guests who prefer lighter foods may benefit from our Rockstar Chicken Caesar. Our dish can provide salad lovers with the tasty meal they need to satisfy their desires.
5. Guerrilla Burger
Burger and hot dog fans who want a unique dining experience can find it with our Guerrilla Burger pop-up joint. Our Ambush burgers come in singles or doubles while we sear the hot dogs. Your guests have the choice to add three sides to their meals.
Guerrilla's Sabotage side comes with bacon, onion, and swiss cheese. War Dogs have coleslaw, hot fries, and pickles. Wing sides contain jalapeno cream and jerk dry rub. Our famous Rebellion sides have onions, pickles, and a special sauce. Below are the sauces you may find in the Guerrilla Burger catering orders:
Bastards sweet BBQ
Country mustard
Curry ketchup
Hot Bastards BBQ
Jalapeno cream
Kranch
Kewpie mayo
Our Guerrilla Burger meals have three sides of fries you can choose from to cap off your catering meal. Battle fries have crispy chicken chimichurri poutine, Militias contain chorizo smoked gouda, and Tacticals have BBQ buffalo bleu kranch.
These burger meals can give your guests a rare dining experience that may send their taste buds flying.
6. Two Chicks Chickens
People who crave chicken will watch for a more distinctive and tasty dining experience in 2023. Two Chicks Chicken Joint provides you with that and more for catering events. Our selection of chicken comes with unique and classic chicken we roast or fry to meet your desires. Here are the three types of chicken catering meals we're proud to offer to you and your guests:
Chickwich
Half chicken
Wings
You can choose to spice or sweeten the chicken to meet the needs of event attendees. They can select up to three sides to go with their meal. Below is a list of the five sides we can bring to your catering event:
Coleslaw
Fries
Mac and cheese
Onion rings
Pickles
Two Chicks has sauces that provide your catering meals with a final touch. Here are the four sauces we offer at catering events:
Honey lemon aioli
Hot honey
Sriracha mayo
Sweet BBQ
Our chicken meals provide your events with authentic dining experiences your guests may enjoy.
Rogue Kitchens Full Service Catering Near Me | Dependable Meals You Can Count On
Top-quality full service catering near me comes from dependable kitchens with experienced cooks and staff. At Rogue Kitchens, our certified and talented cooks prep each meal to help upgrade your business and private events. We offer catering services to events of all sizes and use nourishing ingredients from our trusted partners.